GLAMURNA ZIRKA DLYA DENEB KEITOS YABLUNEVYI TSVIT
Born: 17.01.2008
UKU.0001533, RKF 2453161

Working cert: : IPO-1, BH

Health tests (dysplasia): : HD-B, ED-0

Genetic tests for health: HUU: N/N, JLPP: N/N, heart-norm


father: VIRDZHILL S ZOLOTOGO GRADA

mother: AMAZONKA YABLUNEVIY TSVIT

owner: Natalia Stolbova (Kemerovo, Russia)
Titles:
Int.Ch, Club.Ch, Gr.Rus.Ch, Grand Bol.Ch, Grand Mda.Ch, Bol.Ch, Geo.Ch, Kaz.Ch, Mac.Ch, Mda.Ch, Mne.Ch, Rus.Ch, Slo.Ch, Balkan.Ch, J.Rus.Ch, RKF.Ch, SKK.Ch (kaz), OANKOO.Ch (rus), 3 x RFLS.Ch (rus) , RFSS.Ch (rus), Club Ch of Bulgaria and Moldova, Winner of the Balkan Countries, 4хСАСІВ, 24ХСАС, 15ХBOS, 8XВОВ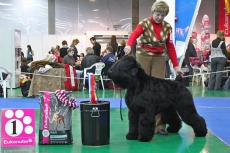 GLAMURNA ZIRKA - imported from the famous Ukrainian nursery "Yablunevy Tsvit", a professionally bred bitch of linear breeding with a splendid pedigree, the daughter of one of the leading breeding producers of Europe VIRDZHIL S ZOLOTOGO GRADA (born in Moscow in the nursery "Golden Grad", who lives in Switzerland) and Young Champions of the World-06 of the most titled dog of Ukraine AMAZONKI YABLUNEVYY TSVIT.

GLAMURNA ZIRKA - comes from a strong line that gives champions consistently for several generations. She successfully performs at exhibitions and is always highly appreciated by experts. Has an effective appearance. It inherited from its famous ancestors a bright type of real Russian black terrier. A balanced, harmonious, strong bitch with a beautiful head, excellent pigment eyes and gums, strong topline and magnificent movements, with elegant classical fur. It has excellent character, temperament, breed, tolerant, sensitive, faithful companion to any travel. Zirka's house is very affectionate and kind dog. A real companion and protector, and the best nanny in the world.
PEDIGREE

Int.Ch, Aut.Ch, Lux.Ch, Sw.Ch, VDH.Ch, J.Cze.Ch, J.Lux.Ch, J.Sws.Ch, HD-A

Virdzhill s Zolotogo Grada

Blr.Ch, Rus.Ch, J.Rus.Ch, RKF.Ch

Labrash Mister Iks

res.WW, J.EuW, Int.Ch, Club.Ch, Gr.Rus.Ch, Prt.Ch, Rom.Ch, Rus.Ch, Svk.Ch, Ua.Ch, RKF.Ch

Razboynik Yashkin Sin

Labrash Atlanta Bogatyrskaya Doch, HD-B

Labrash Atlanta Bogatyrskaya Doch

Int.Ch, Club.Ch, Gr.Rus.Ch, Mda.Ch, Rus.Ch, Ua.Ch, HD-B

Imperatritsa s Zolotogo Grada

Int.Ch, Club.Ch, Gr.Rus.Ch, Balt.Ch, Blr.Ch, Est.Ch, Hrv.Ch, Lt.Ch, Lv.Ch, Mda.Ch, Rom.Ch, Rus.Ch, Scg.Ch, Ua.Ch, RKF.Ch, 2 x OANKOO.Ch (rus) , RFLS.Ch (rus), RFOS.Ch (rus), RFSS.Ch (rus)

Ledogor iz Russkoy Dynastii

J.EuW, Blr.Ch, Mda.Ch, Rus.Ch, Ua.Ch

Ballada s Zolotogo Grada

J.WW `06, Int.Ch, Grand Bol.Ch, Grand Rom.Ch, Grand Ua.Ch, Blr.Ch, Bol.Ch, Mac.Ch, Mda.Ch, Pol.Ch, Rom.Ch, Rus.Ch, Slo.Ch, Srb.Ch, Ua.Ch, Balkan.Ch, East&Cent.Euro.Ch, Ukr.Winner, J.Balkan.Ch, J.Bol.Ch, J.By.Ch, J.Lv.Ch, J.Mda.Ch, J.Rus.Ch, J.Ua.Ch, RKF.Ch, RFLS.Ch (rus), RFOS.Ch (rus), RFSS.Ch (rus)

HD-B, ED-0

Amazonka Yabluneviy Tsvit

EuW `04, Res.EuW `07, J.EuW `03, Int.Ch, Club.Ch, InterClub.Ch, J.Club.Ch, Gr.Rus.Ch, Blr.Ch, Est.Ch, Mda.Ch, Rom.Ch, Rus.Ch, Spa.Ch, J.Rus.Ch, RKF.Ch

HD-B, ED-0

Nikola Gorynich s Zolotogo Grada

Int.Ch, Club.Ch, Gr.Rus.Ch, Balt.Ch, Blr.Ch, Est.Ch, Hrv.Ch, Lt.Ch, Lv.Ch, Mda.Ch, Rom.Ch, Rus.Ch, Scg.Ch, Ua.Ch, RKF.Ch, 2 x OANKOO.Ch (rus) , RFLS.Ch (rus), RFOS.Ch (rus), RFSS.Ch (rus)

Ledogor iz Russkoy Dynastii

res.WW '01, Int.Ch, Club.Ch, Blr.Ch, Est.Ch, Rus.Ch

Barbi s Bronich Valensiya Vandeya

Grand Ua.Ch, Blr.Ch, Bol.Ch, Mac.Ch, Mda.Ch, Rom.Ch, Rus.Ch, Ua.Ch

Sladka Yagoda s Teplyh Zvezd

Rus.Ch, Ua.Ch

Germes Klayf ot Feri

Blr.Ch, Mda.Ch, Rus.Ch, Ua.Ch

Viesta Sorbona Bars
Вернуться назад