Puppy delivery and payment
All our pups are bred for good looks and disposition.
All dogs shipped to other states are shipped from Moscow. We can ship the pup to you any day of the week. Some airlines do not accept dogs on weekends.
You may pay with a money order sent to the kennel. For puppies sent by air, payment is expected prior to shipment. Please call or write if you would like more information. If for any reason you do not like your pup, please return ASAP (within 7 days). A refund will be paid except for shipping.
There are strict weather controls-so if the temperature in your area is 85 degrees plus or 30 degrees and below no airline will accept prior to shipment. Prices fluctuate from city to city and from airline to airline. In some cases dogs cost more than what a passenger would pay for the same trip. To make it fair for everyone - each puppy buyer will pay for his pup plus exactly what it will cost to ship the pup to his city.
For all dogs to be shipped they need a crate. These are the sizes:
SIZE and DESCRIPTION, APPROXIMATE COST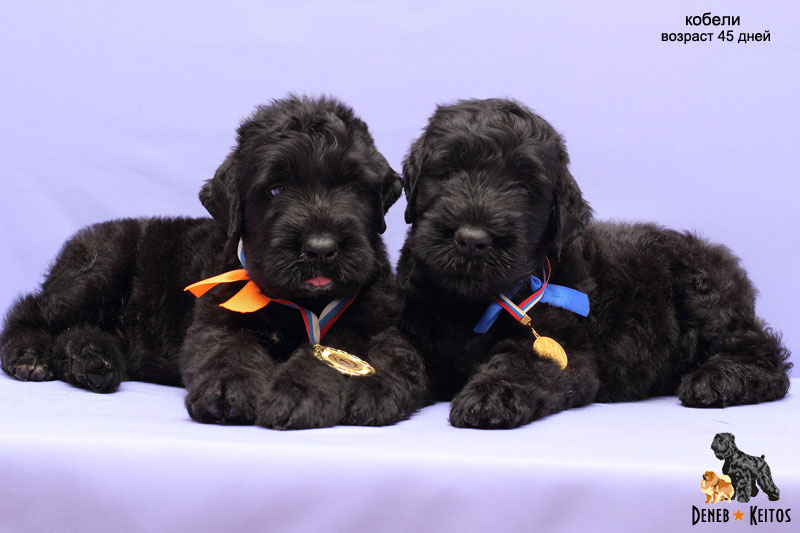 For small puppies a basket $ 80
For average puppies a basket $ 150
For adult dogs a basket $ 350-450
The airline charges shipping by volume . All pups will be checked by our veterinarian before being shipped - he has the final say. We cover his cost which includes the health document required by the airline plus all first vaccinations and microchipping. We include all costs except air freight in the price. There are no additional costs.
Finally, there is the cost of shipping itself which truly varies depending on which airline, where the pup is going and the size of the crate. We will bill you the exact price a few days before shipping.
If you are committed to owning a top-quality Black Russian Terrier and are capable of making the commitment this type of dog deserves, please consider a puppy from DENEB-KEITOS.
Вернуться назад